By Mark Tutton, CNN
London (CNN)What's low-tech, sustainable and possibly the most effective thing we can do to fight climate change? Planting trees. A trillion of them.Tom Crowther is a climate change ecologist at Swiss university ETH Zurich. Four years ago he found there are about 3 trillion trees already on earth — much higher than NASA's previous estimate of 400 billion. Now, his team of researchers has calculated there is enough room on the planet for an additional 1.2 trillion — and that planting them would have huge benefits in terms of absorbing atmospheric carbon dioxide, the main driver of climate change."The amount of carbon that we can restore if we plant 1.2 trillion trees, or at least allow those trees to grow, would be way higher than the next best climate change solution," Crowther told CNN.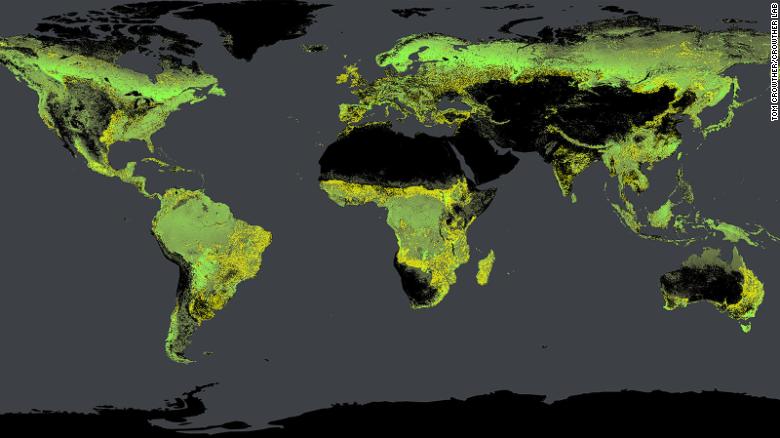 Global tree density, calculated by Crowther's team. Existing forests are shown in green, potential forests are yellow.Because his research is currently under review for publication in the journal Science, he says he can't share exact figures of how much extra CO2 could be stored by those trees. But he points to numbers from Project Drawdown — a non-profit that ranks climate solutions by the amount of CO2 they could remove from the atmosphere. Its number one ranked solution — managing the release of HFC greenhouse gases from fridges and air conditioners — could reduce atmospheric CO2 by 90 billion tons. Crowther says planting 1.2 trillion trees would give a reduction "way above" that figure.To put that in context, global CO2 emissions are around 37 billion tons per year.Read: Stronger hurricanes could decimate forests, accelerate climate change
Can it be done?
But while there may be space for a trillion new trees, is it actually practical to plant that number?One organization that thinks so is youth-led Plant for the Planet (PFTP), which is running the "Trillion Tree" campaign to do just that.Set up as the "Billion Tree" campaign by the UN in 2006, it was later handed over to PFTP, which has upped its planting ambitions in response to Crowther's work.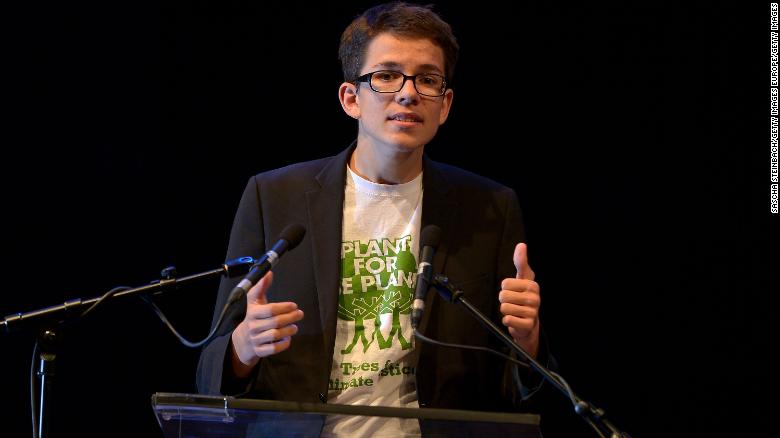 Felix Finkbeiner founded Plant for the Planet in 2007, when he was just nine years old. He is now a PhD student at Tom Crowther's lab at ETH Zurich. He's pictured at an award ceremony in 2015.It has already planted nearly 15 billion trees, with the help of various governments, including India's, which has planted more than 2 billion trees as part of the initiative.Read: Baobab tree deaths linked to climate change"I think a trillion trees is achievable," says PFTP chairman Sagar Aryal. "It's not that we don't have enough money in the world — maybe governments alone can't do enough but if we work together with the private sector we can do it."
The right location
Crowther is a scientific adviser to Plant for the Planet, providing them with information on the best places to restore trees. He says all the locations identified by his team are on degraded land, rather than agricultural or urban areas.Record levels of gold mining are destroying one of the most biodiverse places on Earth, study shows"These are places where farms have been abandoned, or where there's been deforestation and it's been left," he explains.Read: Climate change – do you know the basics?To successfully fight climate change, it's vital that the right land is restored. For example, in parts of northern Europe, planting more trees could reduce the heat and light reflected from snowy ground, and actually increase global warming.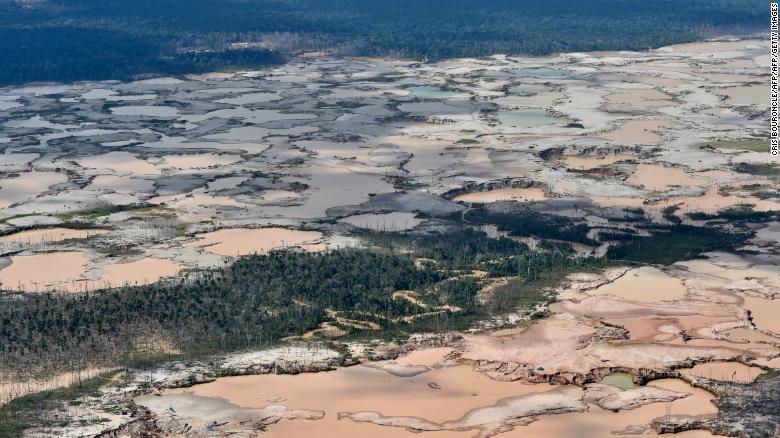 A chemically deforested area of the Amazon caused by illegal mining in southeast Peru, February 2019.Joseph Veldman, of the department of ecosystem science and management at Texas A&M University, told CNN that although reforestation can play a role in carbon sequestration, "There is no doubt that super-aggressive tree planting efforts that are not done with consideration of the historic ecosystem will be a bad investment."Global climate targets will be missed as deforestation rises, study saysHe says some previous reforestation projects have targeted grasslands and savannah ecosystems that already play an important role in storing carbon.Such schemes often plant exotic trees, like pine and eucalyptus, which are very flammable and also valuable as timber and pulp, he says. As a result, the carbon they store above ground can be lost to wildfires or logging.Crowther agrees wholeheartedly. "All the models that previously existed about where forest can be restored disregard whether they should," he said. "We don't just model the forest, we also model grasslands and shrublands and piece them all together to reveal what should be where."
Growing in popularity
Tree planting is no quick climate fix. It can take 30 to 40 years of growth for the carbon storage to reach its full potential. A more immediate benefit can come from halting deforestation, says Crowther, which costs our planet around 15 billion trees each year.Why Brazil's Jair Bolsonaro has environmentalists worried for the AmazonBut although tree planting on such a colossal scale faces significant challenges (not least identifying who owns the land in question, and securing the rights to plant and maintain trees there), widespread efforts are already underway.The Australian government has announced it will plant 1 billion trees by 2030; work is underway on a "Great Green Wall" to stop the spread of the Sahara by restoring 100 million hectares of degraded land (and sequester 250 million tons of carbon), and China's anti-desertification program, also known as the "Great Green Wall," has planted more than 50 billion trees since the 1970s. The UN-endorsed Bonn Challenge aims to reforest 350 million hectares of degraded land globally by 2030.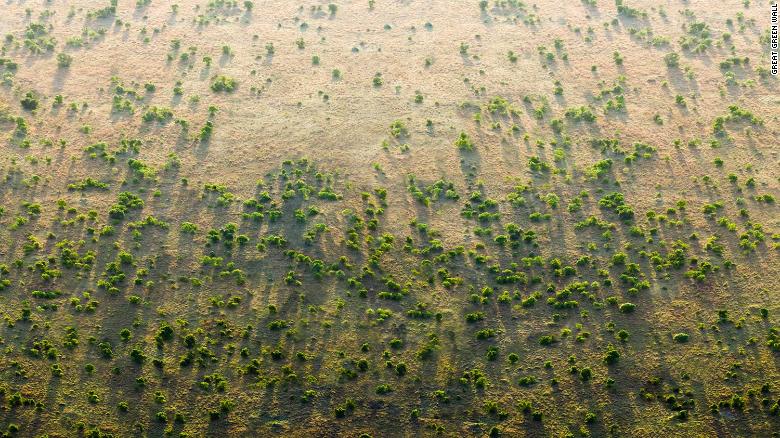 Africa's Great Green Wall aims to slow down desertification.Crowther says he was once skeptical about the benefits of tree planting, but has now changed his mind."Climate change is seen as such an immense and complicated issue — it feels like it's seen as someone else's problem, someone else is dealing with it or not dealing with it, and no one has a simple message for how to go about tackling it," he says."I'd like to try and champion this as a solution that everyone can get involved in. If all the millions of people who went on climate marches in recent weeks got involved in tree planting the impact would be huge."